Safe Habitat's Professional
Moving Out/In Cleaning and Disinfection

Renovation works often lead to debris, dust and toxic particles that may linger in you homes. Contractors often leave dirt, chemical residue, saw dust even after their basic cleaning. Without professional deep cleaning, it is difficult to rid all the resulting dust and hazardous excess in the air, general surfaces as well as the difficult to reach areas such as the insides of wardrobes and drawers.
With the current COVID-19 pandemic, other than deep cleaning, preventive disinfection after renovation will also ensure your newly renovated apartment is clean and safe prior to your anticipated move in.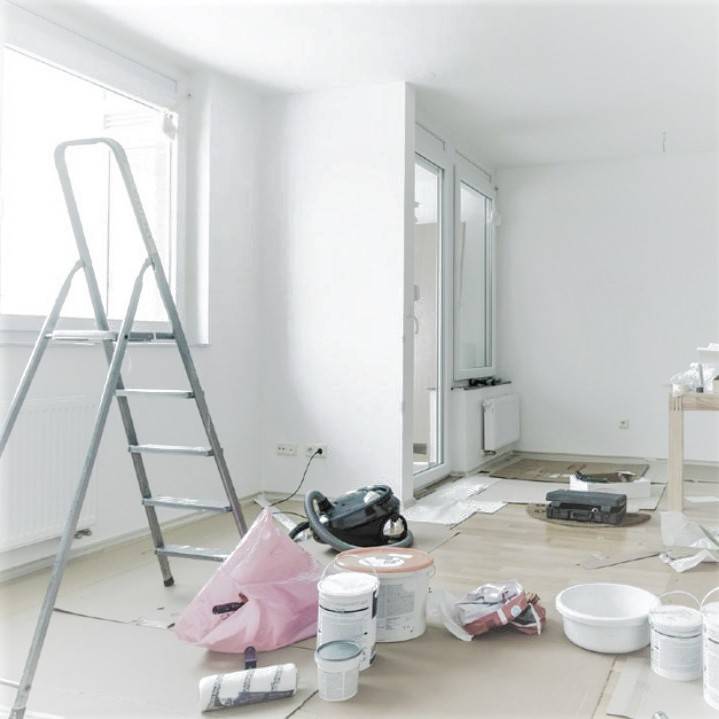 Professional and thorough deep cleaning
While renovation contractors often include a general cleaning within their package, the general cleaning is often unable to effectively rid the dust, dried cement, water marks, stains and pathogens in the air. does not get removed very easily. Safe Habitat professional cleaning team will ensure deep cleaning via a top down methodological approach to ensure all renovation debris, dust are eliminated.
Non-toxic,
Child-friendly, Disinfection
A professional preventive disinfection after your renovation deep cleaning works also ensure that your newly renovated apartment is clean, 99.99% germs and virus free.
Safe Habitat uses NEA recommended disinfecting agent which is non-toxic, non-irritant and child-friendly to do a thorough wipe down and ultra-low volume (ULV) fogging.  
Improved Indoor Air Quality
Excess dust is harmful to your health and general well-being, especially for individuals allergic to dust. Our deep cleaning packages removes pathogens in the air for improved indoor air quality for you and your loved ones.
Safe Habitat's Moving Out/In Deep Cleaning Package Inclusions:

Power Wet & Dry Vacuum Extraction of entire unit
Professional deep extraction via our industry grade vacuum machine for your entire premise to exterminate all construction dust and debris.

Thorough wipe down of surfaces including exterior & interior cabinets/ wardrobes
Complete surface cleaning inclusive of wiping of hard to reach surface areas within your newly installed wardrobes and cabinets.
Systematic mopping of all floor surfaces
Our cleaners are professionally trained to thoroughly mop all floor areas in a systematic manner to ensure effective cleaning of your newly renovated home.

Chemical wash and Scrubbing of Bathrooms
Cleaning and disinfecting of renovated bathroom areas inclusive of shower screen, toilet bowl and sink using anti-bacterial and anti-mold cleaning solutions.  

Cleaning & Polishing of Windows/ Reflective Surfaces
Saw dust and small construction debris may often be trapped between window grills. Other than effectively removing them, our expert team also utilizes effective glass cleaning equipment to ensure lasting shine for your windows, glass, mirrors and reflective fixtures.

Removal of chemical residues
Construction chemical residues can often pose health hazards. Our team is trained to effectively eliminate harmful chemical left over from renovation works.

Thorough Cleaning of Kitchen / Yard and Balcony area
Deep cleaning of kitchen counters, sinks,

stoves, refrigerators, microwaves, and ovens are also inclusive.

General cleaning is also carried out to exposed areas such as yard and balconies.

Waste and Garbage Disposal
All garbage and post renovation debris will be taken care of and properly disposed by our professional team.
Safe Habitat's Moving Out/In Service Pricing
| | | |
| --- | --- | --- |
| Unit Type and estimated sqf | Moving Out/In Deep Cleaning | Moving Out/In Deep Cleaning + Disinfection* |
| | | |
| | | |
| | | |
| 5 Bedrooms / Landed ~1400 sqf and above | | |

Safe Habitat's Professional Experts
Providing a trusted peace of mind.
As one of the best cleaning companies in Singapore, Safe Habitat's cleaning team is professionally trained and fully equipped with the appropriate deep cleaning equipment. Our professionally-trained cleaning teams are ready and experienced to deal with all kinds of post-renovation messes and provide a wide range of cleaning solutions. Our fully equipped sets include power vacuums, extractor machines, greasers, reflective surfaces chemical cleaner and more for multiple scenarios.
More importantly, we understand the stresses of new home owners and strive to provide you with quality one-stop solution to ensure a hassle free post renovation cleaning and disinfection process.
SATISFIED REVIEWS FROM HOME OWNERS
"Engaged Safe Habitat for post renovation cleaning. Cleaning crew was friendly and professional. Willing to go the extra mile and ensured stain removal and polishing. Overall Positive Experience!"
Jing Wen, Homeowner, Bedok 
"Topped up for disinfection package recommended by Marc and was very satisfied with the additional works. Thorough fogging of disinfection agent was carried out, and the team also activated UVC sterilization. Thanks Marc and Safe Habitat team!'
Adeline Soh, Homeowner, Choa Chu Kang 
"Cleaners were well trained, know what they are doing and explained their cleaning methodology well. Efficient and effective, will hire again for other cleaning needs."
Cheow Ming, Homeowner, Queenstown